ABC of NC and Peppercorn Theatre at The Children's Museum of Winston-Salem "took one step" together when the two organizations joined forces to present an autism friendly performance of Peppercorn's summer show Take One Step. The performance was held on Saturday, July 18 at The Arts Council's Hanesbrands Theater.
Take One Step is a fast-paced, fantastical, modern, musical retelling of the Pied Piper story set in a big city with a big problem. When the Pied Piper comes to town to help the children of Metropolita rid their city of rats, the citizens learn to value relationships and trust over money and greed.
For the sensory friendly show, stage hands lowered the level of the lights and sound within the house while autism professionals prepared the cast and crew for what it means to perform for an audience of families and children with autism and other sensory integration challenges.
"Collaborations strengthen our community, and Peppercorn Theatre at the Children's Museum is excited to partner with ABC of NC and share this performance with families in our autism community," said Elizabeth Dampier, Executive Director of the Children's Museum of Winston-Salem.
The performance was staffed with autism specialists from ABC of NC who were on hand to provide support for children and families for whom going to the theater was a novel experience. ABC of NC and Peppercorn created a social story (a written or visual guide that describes a situation, like going to the theatre, in terms of relevant social cues, perspectives, and common responses) to help children with autism and their families prepare for the performance and what they could expect to see, hear, and experience.
This community-wide performance was on the (rat)tails of a week-long artist in residence program. Children participating in ABC of NC's summer education program had an opportunity to make rat masks, learn some of the show's signature musical numbers, hone their tap dancing skills, and gain a better understanding themes presented in the show.
Many individuals with autism can become over-stimulated by the world around them which can make environments, like the theater, a challenge to attend and enjoy. The collaboration between ABC of NC and Peppercorn was an important 'step' toward demystifying the theater and helping to make children with autism and their families feel more comfortable attending a theatrical performance in spite of an environment with loud noises, overly bright or dark lighting, and unfamiliar characters.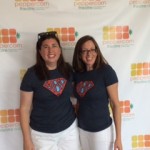 "Making the larger community, and specifically the arts, more accessible for the population that we serve has long been a goal of ABC of NC," said Casey Raymer, director of development. "The partnership with Peppercorn Theatre enabled us to not only bring the magic of the theater directly to children we serve through our Summer Education Program, but to the larger autism community."
This project was made possible with funding from the Arts Council of Winston-Salem and Forsyth County. By efficiently and effectively raising funds and making grants, working to strengthen our broad array of arts resources and offerings, and promoting the arts, The Arts Council of Winston-Salem and Forsyth County is creating an environment in which the arts flourish and enrich the quality of life in Forsyth and surrounding counties.