Dear Friends,
ABC is on the move!  After calling Old Vineyard Road home for nearly eight years, we're about to enter the next phase of ABC of NC's evolution. In May, we purchased the former Triad Academy property (905 Friedberg Church Road, Winston-Salem), an almost 10,000 square foot school building with more than seven acres of room to grow. We are busy making updates to the existing building and grounds so we can begin operating in our new home sometime this fall. But even our new building will not be adequate, so we are embarking on a $5 million capital campaign to build a 15,000 square foot diagnostic and therapeutic clinic; a 10,000 square foot "gymatorium;" and vibrant green spaces and open-air environments that are thoughtfully designed to ignite creativity, encourage play and foster discovery. And, that's just the beginning!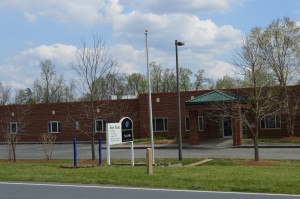 Before we moved into our current school building, the former Montessori school, I used to sit in the parking lot gazing at it and envisioning what it would be like to move ABC of NC to this large, expansive building.  We'd been joyfully serving children, first out of the trunks of our cars, and then out of the Highland Presbyterian Church basement.  But we were growing larger and we needed more space and a place to put down roots that didn't require that we pack everything up on Friday afternoon and unpack again on Monday morning.
When we began moving our things into the building on Old Vineyard, it seemed we'd never be able to fill it up—with 13 children, a handful of staff, and our meager inventory of tables, chairs, rugs and hand-me down toys. But we've continue to expand and now we're bursting at the seams!
Today, ABC of NC is a thriving center providing not just educational, but also diagnostic and therapeutic services, to more than 300 area children with autism spectrum disorders and their families each year. We have expanded and enhanced our programmatic offerings for both children and families. We opened a diagnostic and therapeutic clinic. We have established ourselves as a state-wide leader in best-practices for autism services. We have raised the profile of autism in our community and helped to foster an atmosphere of inclusion and acceptance. We haven't just filled it up…our cup runneth over.
In other words, it's time for ABC of NC to do more of what it already does so well – provide a brighter future for children with autism and their families. And, we need more space to do it.
Thank you for your support that has helped us grow thus far. We wouldn't be where we are today without your generous support. Over the coming months, we will share our progress and give you an opportunity to invest in the future of autism services for our community. Stay tuned!
Sincerely,


Selene Johnson