ABC of NC Light It Up Blue for Autism Awareness and Acceptance Day
(April 28, 2016) For the third consecutive April, the Winston-Salem skyline has been bathed in blue hues in honor of Light It Up Blue, a global initiative that shines a light on autism with the illumination of iconic buildings and landmarks during Autism Awareness and Acceptance month.
Light It Up Blue (#LIUB) is a unique global initiative that kicks off Autism Awareness and Acceptance Month and helps raise the public consciousness about autism spectrum disorder (ASD). Through the Light It Up Blue campaign many iconic landmarks and buildings, along with hundreds of thousands of homes and communities take part in this very visible commitment to shine a light on autism.
"Community support of this initiative has been tremendous but as the sun sets on Autism Awareness and Acceptance Month, we must remain committed to raising awareness, promoting acceptance, and increasing understanding of autism year-round, not just in April," said Casey Raymer, director of development for ABC of NC, a local non-profit that provides diagnostic, therapeutic, and educational services to children with autism spectrum disorder and their families. "So, while the blue lights will soon dim, let's hope community support for children and families impacted by an autism diagnosis does not."
About ABC of NC
ABC of NC is a not-for-profit center dedicated to providing high-quality, evidence-based diagnostic, therapeutic, and educational services to people with autism spectrum disorder; ensuring service accessibility to individuals from any economic background; offering support and hope to families; and advocating for inclusion and acceptance. The vision of ABC of NC is that all people living with autism spectrum disorder reach their full potential in a world where they are valued, accepted, and included.
About Autism
Autism is a general term used to describe a group of complex developmental brain disorders—autism spectrum disorders—caused by a combination of genes and environmental influences. These disorders are characterized, in varying degrees, by social and behavioral challenges, as well as repetitive behaviors and impaired communication. Autism is a spectrum disorder, meaning that it affects people to varying degrees. Thanks to advances in research and early detection and treatment, autism is reliably diagnosed as early as 24 months and evidence-based interventions, like those provided at ABC of NC, can improve its core symptoms. The CDC estimates that one in 68 children born today will be diagnosed with an autism spectrum disorder, and the prevalence is even higher in North Carolina with an estimated one in 58 children, and one in 35 boys. receiving the diagnosis.
About World Autism Awareness Day
On December 18, 2007, the United Nations General Assembly adopted resolution 62/139 declaring April 2nd as World Autism Awareness Day (WAAD) in perpetuity. This UN resolution established WAAD as one of only three official disease-specific United Nations Days, with the goal of bringing the world's attention to autism, a pervasive developmental disorder that affects tens of millions. WAAD shines a bright light on autism as a growing global health concern. WAAD activities help to increase and develop world knowledge of the autism crisis and impart information regarding the importance of early diagnosis and early intervention. Each April 2nd, the international autism community celebrates Light It Up Blue, in commemoration of the United Nations-sanctioned World Autism Awareness Day. Buildings, landmarks and historical treasures from the Empire State Building in New York to the Great Pyramid of Giza in Egypt will participate. Many participating landmarks show their support for the initiative by keeping the lights on throughout the month of April.
LIGHT IT UP BLUE PARTICIPANTS PAST AND PRESENT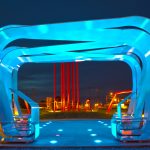 ARTivity on the Green
630 North Liberty Street, Winston-Salem

Wait Chapel, Wake Forest University
1834 Wake Forest Road, Winston-Salem

751 West Fourth
751 West Fourth Street, Winston-Salem

Krispry Kreme Corporate Headquarters
370 Knollwood Street, Winston-Salem
R.J. Reynolds Building/ Kimpton Cardinal Hotel
51 West Fourth Street, Winston-Salem
City Hall
101 North Main Street, Winston-Salem
The Millennium Center
101 West Fifth Street, Winston-Salem