ABC of NC's summer program combines the fun of a summer day camp with evidence-based therapeutic and instructional programs for children with autism spectrum disorder (ASD) and typically developing peers. Through recreational activities, we address the unique challenges often faced by individuals with autism including communication, social, play, coping sensory, and self-help.
---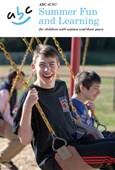 About of ABC of NC Summer Program
Download PDF
---
Click here for eligibility, pricing, admission information, and schedule.
---

Summer Program Scholarship Application
Download PDF

Service(s) Request Form
Download PDF

New Client Intake Packet
Download PDF
---
For questions about the Summer Program, please contact:
Kristen Carter Jackson, Summer Program Director
Leigh Ellen Spencer, Client Relations Coordinator